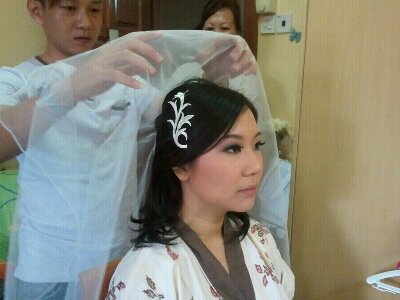 This is Charlotte, a beautiful young bride, also sister of one of my very good friend. :)
Being a young bride, Charlotte wanted to go for the classic look, but didn't want to look older than her age, so we decided to let her hair down, instead of putting them all up in an updo. Her hair deco is self made, how pretty!
Charlotte had dry skin, so we first had to prep her face with moisturiser n eyecream. We also added on some makeup base to ensure that the makeup will last the whole day as she will have a photoshoot after her church wedding in the morning, and I wouldn't be there to help her touch up.
For her eyes, we decided to go with a medium intense version of smokey eyes, with semi dramatic false lashes. This is to make her look more awake, plus wearing false lashes ALWAYS make you look better in photos. :)
I always encourage my bridal clients to wear false eyelashes to enhance their beauty in photos. For brides who are concerned that wearing false lashes may be uncomfortable, please don't be, because false eyelashes are never uncomfortable when applied on properly. Yes, you may feel as if there are a set of awning on your eyelids, but after the first 15 mins or so, you would have gotten used to it. Try them on during your bridal trial so that you get more time to get used to it. I guarantee it's worth it. :)
Will post up photos from the professional photographer soon.
Wishing Charlotte and Simon all the best on their new exciting journey ahead. God bless.
Looking for a makeup artist for your wedding? Set up a bridal makeup trial with us in Kuala Lumpur, Malaysia. Contact makeup artist Cassandra Lim, at 012-2771000 or email us at cass@dominicabyc.com.