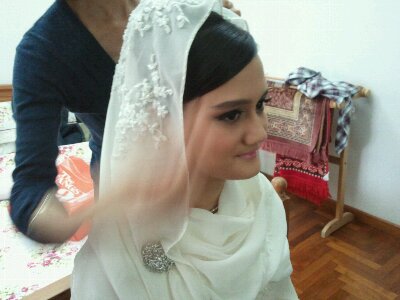 Long time no update, been really busy with stuff, I really should make it a habit to update more often. Well, with my Android phone plus WordPress application, I don't see why not. :)
So a short update, this is Syaz from last week's wedding gig. Syaz had huge beautiful eyes, and absolutely to die for skin, so we only had to use very little makeup. Personally, I don't fancy thick makeup for actual day of your wedding, as you'll be surrounded by people and you don't want them to see your makeup melting in the heat. I try to get away with using as little makeup as possible for actual wedding day.
One thing though, due to religious reasons we did not trim her eyebrows, so it may look a bit thick, but I'm not really an advocate of super thin eyebrows.
Here's a picture from my phone, please bear with it, it ain't no professional camera. :) will post one from the professional photographer soon.
Doesn't she look like a doll? Actually I think she looks very goddess like, in Buddhist religion there's one called Goddess of Mercy, aka Kuan Yin.
Looking for a makeup artist for your wedding? Set up a bridal makeup trial with us in Kuala Lumpur, Malaysia. Contact makeup artist Cassandra Lim, at 012-2771000 or email us at cass@dominicabyc.com.