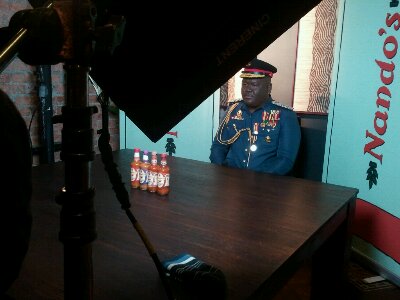 Oh my God, super massive happy!!! Was called up to do a shoot for Nando's!! Nando's is only like my favourite food in the world. Attempted to make it at home few weeks back, but sad to say that it didn't turn out like Nando's from the shop. Sadness.
Anyhow, I was requested to transform an Asian man into an African man. The previous makeup artist did not have the appropriate foundation colour, so she/he mixed eyeliner into foundation. The talent had a crazy hard time removing the makeup. He said his wife had to use an entire new bottle of Bobbi Brown Cleansing Oil. Which he has to replace. ha ha
I'm so glad I have my Graftobian foundation palette that has colours ranging from Caucasian skintone to African skintone. Even then I had to mix some black from Make Up For Ever Flash palette to darken it even more.
Removing it was relatively easy for the talent. Firstly, we used Eucerin cleansing milk, write off with tissue, and the remove residue with Simple Cleansing Wipe.
This method of transformation was okay for indoor shoots, but for outdoor events, it will be necessary to use airbrush makeup.
I love Nando's!!!
Looking for a makeup artist? Set up a makeup trial with us in Kuala Lumpur, Malaysia. Contact makeup artist Cassandra Lim, at 012-2771000 or email us at cass@dominicabyc.com.