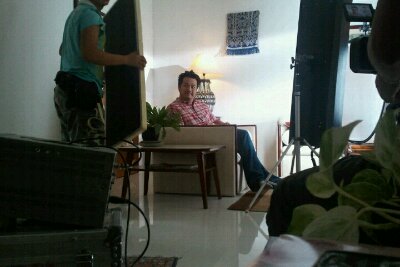 What to do when your face refuse to stop producing oil, and hence shine?
Did an infomercial shoot for Astro PVR, with MY FM deejay Jack Lim (林德容), and boy, was it a tiring shoot. In addition to having only 2 hours of sleep the night before, we had to shoot without airconditioning or fan, to not have distracting background noise in the recording.
And man, the talents were sweating and their faces were so shiny! We shot in High Definition, and in HDTV, the tiniest shine or sweat drops would show.
To help slow down sweat and mattify the shine on talent's face, I used this awesome Japanese makeup base, Sana Pore Putty. I got it from Singapore Sasa, but I think it's available in your local Sasa.
You can use it prior to applying the foundation, but I chose to apply it ON TOP on the foundation and powder.
Why on top of the foundation and not below? Well, I've experienced foundation shifting under the said makeup base, and the foundation just refused to set. That made the talent (from another shoot) looked as if he was wearing a mask.
So now I just apply foundation on the talent, powder him/her up, and apply a thin layer of Sana Pore Putty on the T zone, the area that is most likely to get shiny. For faces that produce more oil, I apply a thin later all over.
RESULT:-  nice matte face with natural skin halation (just a nice glow so skin doesn't look dead)
Be careful, use only a thin layer. Using too much would create a flat and lifeless skin.
And that worked for the Astro PVR shoot. I had to touch up the talents (7 of them) less often. This really is a useful product, that should be carried by all makeup artists, and consumers who shines easily. A similar product is Dr Feel Good from Benefit.
Looking for a makeup artist? Set up a makeup trial with us in Kuala Lumpur, Malaysia. Contact makeup artist Cassandra Lim, at 012-2771000 or email us at cass@dominicabyc.com