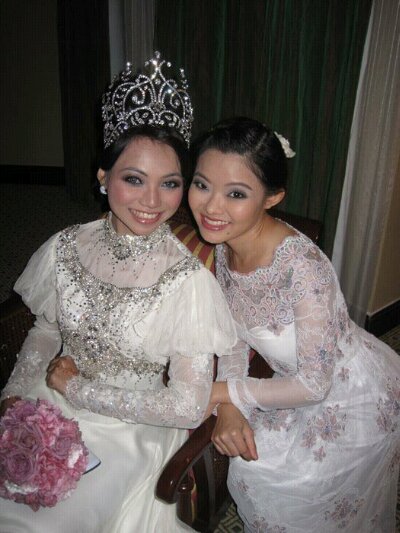 The beautiful bride and her pretty maid of honour :)
Are you the kind of bride who's always wanted to wear a tiara? Or maybe you've always dreamt of being the beautiful princess at your own wedding?
Do take into consideration that the bigger tiara is, the heavier it is, and the more difficult it is to balance it on your head. We'll definitely recommend an updo to secure the tiara to your head and hair.
If you've decided to wear a tiara at your wedding, be sure to secure it well, and also practice walking around with it before your wedding functions, so you can get used to it and behave naturally during your big day.
Also, the general rule of thumb is that the size of the tiara should be proportionate to the size of your head. The bigger the size of size of your head, the bigger tiara it is that you can wear. If you have a small head, wear a smaller one so it won't look like you stole somebody elses' tiara.
The bride asked me, "Macam mana? Macam Cinderella tak?" translated to "So what do you think? Do I look like Cinderella or not?"
Yes, you do :)

Looking for a makeup artist for your wedding? Set up a bridal makeup trial with us in Kuala Lumpur, Malaysia. Contact makeup artist Cassandra Lim, at 012-2771000 or email us at cass@dominicabyc.com.